philips
with a fic rec, which led to an increasingly silly conversation about starting a magazine that's roughly the equivalent of
O: The Oprah Magazine
for BtVS fans. We had a good time planning the features; a few highlights of P's wide-ranging suggestions include "an advice column on friending and avoiding wank," monthly features like "Stupid Things James Marsters Wears" or "What's on SMG's Bookshelf," and handy how-tos ("make an icon in six easy steps!") She also held out the promise of fashion spreads with BtVS, Angel and Torchwood actors ("except for that actress that played Kennedy, 'cause everyone hates Kennedy.") My main contributions were the idea that a Shirtless Reading Spike totebag should be a gift-with-purchase for new subscribers and a decree that only the most guh-worthy fic could hope to attain the coveted designation of "Weapons-Grade Smut." There was some debate over whether it should be called
M
or
P
, but we both agreed that the best orthodontists
and
periodontists in the country would have it in their waiting rooms.
A couple of days later, I opened my inbox and found
this.
P has kindly allowed me to post it with the admonishment that I promise to
say someone else did it
tell people that it's a joke and emphasize that she has
absolutely no graphic skills
. (Hello?! I think I have a fabulous sherbet icon that begs to differ.)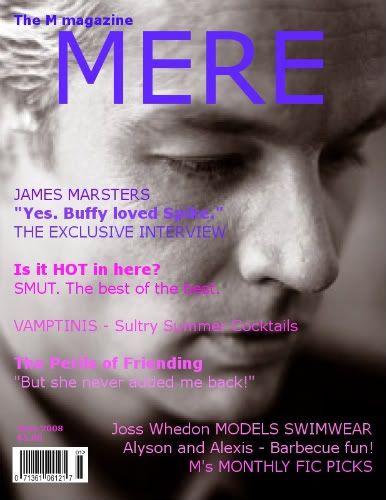 I LOVE IT SOOO MUCH! BWAHAHAA!
I want a Vamptini
right now!
I also love that I had to read "The Perils of Friending" three times because I initially thought it said "The Penis of Friending" and couldn't stop cackling and trying to decode that phrase long enough to decipher it properly. *waves* Hi, I'm twelve.
I'm gonna go post this puppy on my User Info page!
I recently emailed
Current Mood:

squeeful