photo shoot
a couple of months ago. He's appropriated Spike's flask and has been
sulking
brooding and leaving his arm in odd places for weeks now; if I don't intervene soon, I may well wake one day to find a little pile of plastic dust in a sunny windowsill. I should probably be cleaning the bathroom or conquering Mt. Laundry today, but instead, I offer an epilogue that will, I hope, be something of a corrective to my previous harsh and sizeist treatment of Angel. May Casa del Ubu's loss be his gain!
[Note: I can't really blame drugs for the doll photography this time, so I'm just going to blame
philips
. She's a corrupter.]
My first move was to separate Angel from Spike and try to find him some more suitable friends. . . friends who might help him realize that small can be beautiful, too.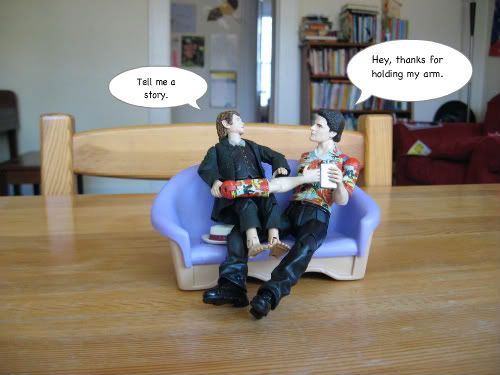 Merry and Angel seem to be getting along famously! I'm so relieved.
Pippin, however, was out on a pizza run when Angel dropped by, and I was a bit anxious as to how things might go upon his return.
Fortunately, pizza, Irish whiskey, and the telly are great equalizers. (Pipe weed may have played a part as well.) If only I'd remembered to tell Buffy that Angel had other plans for the evening. . .
Well. *beams* I think we'd better just leave Angel where he is, don't you?
In the meantime, Spike has been undergoing his own little, um, sensitivity training session and has learned the important lesson that Bigness and Badness are both
relative terms.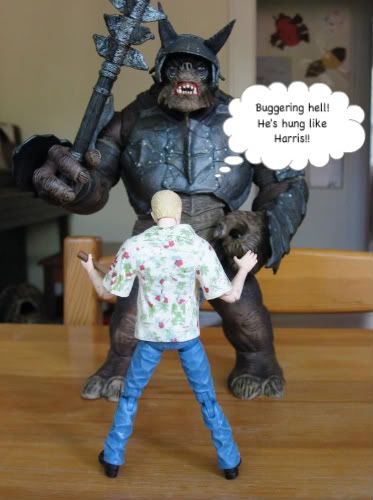 Aw, poor dear!
As if that weren't a humbling enough experience, he had to endure the further indignity of finding Buffy with a completely unexpected patrolling partner. (Silly me! I didn't foresee that Angel's taking a night off to hang with his Hobbit homeys would leave Buffy in the lurch. *wrings hands* I hope Spike can find it in his hard little plastic heart to forgive me!)
Oh man, this does not look good. *peeks cautiously through fingers* I certainly hope there aren't any "accidents" on patrol tonight!
Uh, I need to go deal with a situation. *whispers* I think that Angel and Merry may have formed. . . an
alliance
, and Pippin is wrecking the Fisher-Price dollhouse. With Angel's arm. What? Oh, don't give me those reproachful eyes. I was just trying to help!
Although the contents of this journal would certainly seem to indicate that I have no shame, I have to admit that I've been feeling a little bad for my Hawaiian Shirt Angel action figure ever since I posted that
Current Location:

home

Current Mood:

creative

Current Music:

cat puking (reprise)