philips
. I'm not sure that I have adequate words to describe my delight and surprise at discovering that not only do I have an evil twin, but she's a) four years older than me and b) French! I don't know exactly how
that
works, but I'll certainly take it. I've spent more time cackling in the past few months than I have in the past couple of years. No one has ever made me the head of my own
publishing empire
before or taken the trouble to write
slanderous fic
about me. Also, I'm pretty sure that there's not another person on the planet who would have encouraged me to document the relative endowments of my Spike and Angel dolls. And so, it's fitting that I honor Philips' birthday in the only way I can since she turned me away from the light: by torturing inanimate objects a fraction of my own size.
With my goal firmly in mind, I set out to do a doll photo shoot that would tie in with her diabolically hilarious Spuffy fic,
The Caseus Prize
. (If you haven't read it yet, go read it now! It's okay, I'll wait for you. How can you resist a tale of cheese voodoo that makes Spike do things that would mortify even a dead man? Priceless!) And so, dear Philips, I offer an homage, of sorts. With fromage, of sorts. (Chevrot it ain't, bébé.)
I have to confess that I was a little surprised at Spike's cooperativeness, but Buffy tends to have a calming effect on him. (When she's not patrolling with Ents, anyway.) Aren't they cute? Cheese and canoodling. What's going to be wrong with that?
Aw, crap. Well,
that
didn't take long! *cringe* I fear that the memory of his cheese fic humiliation may still be a little too close for doll!Spike to see the funny in it. I'd better intervene, because I know that his next step in this sort of situation usually involves fleeing to the spice cupboard. (I just brought back a big bottle of double-strength vanilla extract from the Penzey's in Des Moines, and if he finds it, we'll be into a whole waiting-to-sober-up scenario before we can get back on track.)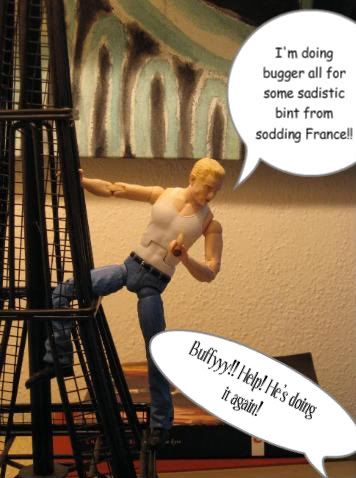 Sometimes, one has to take a firm hand with one's dolls. I wonder if Drusilla ever had these kinds of problems with Miss Edith?
Okay, he's definitely not climbing down off la Tour Eiffel for me. I'm so relieved that doll!Buffy's been feeling a little perkier lately, because her Spike-wrangling skills are invaluable in a crisis. Thanks for the diversion, my little plastic Amazon!
Slayer or no Slayer, though, it was high time for doll!Spike and I to come to an understanding about my expectations regarding his behavior for the remainder of the photo shoot. It never hurts to remind him that a) no good can come of doll disobedience and b) there are
other
tokens he can offer Philips for her birthday (fabulous accessories, perhaps?) if he's unwilling to help me make the pretty pictures.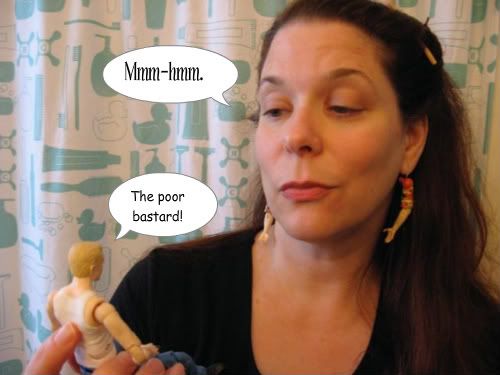 Once I was certain that doll!Spike was understanding me, we returned to the set. Let the birthday vampstravaganza begin!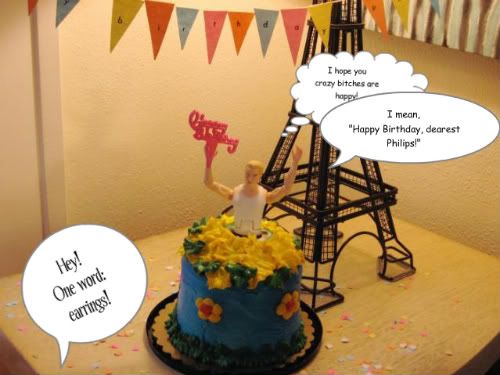 *wails* You people wouldn't believe the amounts of ego I have to endure. Is it too much to ask for a smidgen of cooperation in making a beautiful birthday greeting for my friend? I have a reputation to think about, too, you heartless little plastic menace! *breaks down sobbing*
Once properly shamed, l'il Big Bad finally got with the program and pitched in. Thank god he's such a sucker for a woman's tears!
You know, he'd be a pretty decent stylist if he could give that mouth of his a break for five freaking seconds. Look what nice work he's done here!
It's Battle of the Bulge, Birthday Edition! *facepalm* I honestly don't think that they can be within a mile of each other and not regress at least a century.
I'm sorry, Philips. There was supposed to be more, but things were getting ugly and I figured it was time to clean up the talent before he turned on me. (Again. I'm going to be wearing that Band-Aid for a week!) You wouldn't believe the harassment I had to tolerate on this set--all the entendre and talk of "blowing bubbles."
Sickening doll sexism, that's what it is!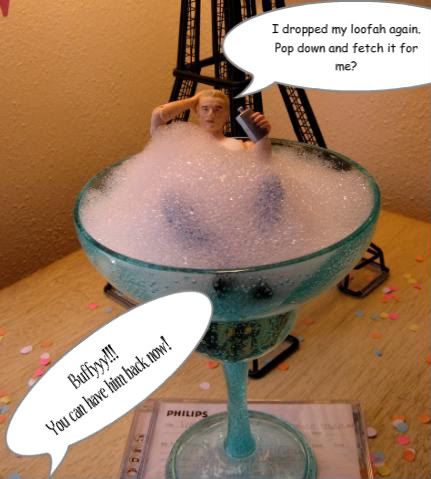 Oh dear lord! I just had a disturbing epiphany about this shot: it's the end of "Showtime"--with cheese! Does this make me the Ubervamp or the First? What have I done to my poor dolls? I swear, I'm going to seek treatment. Tomorrow. Well, soon, anyway. Soonish . . .
Aww, look at that. I came back from cleaning up the bubble bath, and they don't look so traumatized to me. I guess there's something about that old cheese magic, after all. I'm going to give these two lovebirds the night off. *tiptoes away*
Joyeux anniversaire, honey!!
\\0// Thank you for your kindness and your wickedness and for making me laugh until I make honking noises. May the upcoming year bring you joy and more of the good things. *big birthday hug* And maybe a chance to not play with dolls alone. ;)
In an attempt to sorely test your hypothesis that there can never be too much doll!fic, I offer a slideshow of birthday photo shoot outtakes
here
, and the whole sordid gallery of wrongness
here
. I also have a knife and fork ready in case you decide you want to eat those words.
Oh! And how could I forget? Shout out from M. Mere who ran the second doll photography unit and wishes you a big ol' happy birthday to boot. :D
Today is the birthday of the lovely, fantabulous