botias
' birthday! In addition to just generally being a fine person, she also writes such
lovely
smut. *sigh* I'll always have fond memories of the day I read chapter four of
Persephone
at work and was so porn-bedazzled that I almost stapled my hand to a stack of paper five minutes later. Ah, good times. I've also come to count on B. for things like thought-provoking discussions of literary terms for naughty bits as well as exciting new mottos. Y'know what else? She's remarkably tolerant of weird readers who contact her out of the blue with gardening questions. Thanks to her initial encouragement, it's taken me
an entire summer
to kill my little herb container garden instead of the customary two weeks. That's a record!
Have a great day, sweetie! May the upcoming year be filled with goodness and lots of time to write all the evil blue alien overlord/unsouled vampire pr0n
my
your little heart desires. And with that, I say . . .
*cackle* Forgive me, I couldn't resist. It's too good a motto not to use. I'm going to make an icon, too, just as soon as I learn how to do that.
Okay, I know that this is terribly inappropriate, but you're just going to have to trust me when I say that no birthday is truly complete until you've been harassed by a drunken vampire doll. *whispers* It was either this or talk poor Graduation Day Buffy into flashing him again, and she's
thisclose
to staking him. Really, you're taking one for the team here.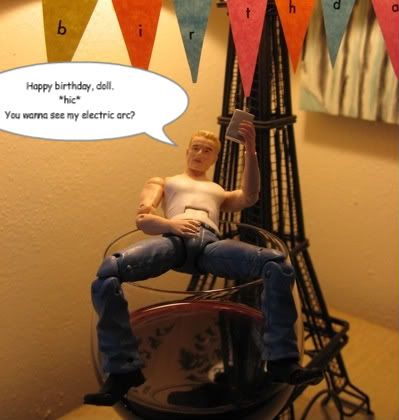 HAPPY BIRTHDAY!!! *hugs* Hope you have a lovely evening with A. and your beautiful little guys.
Today is