years!
I was completely bowled over by your birthday offerings and feel so very lucky have such generous, talented friends. Honestly, I smiled so much yesterday that my cheeks kinda hurt today--that was some workout! The monitor of the MacBook is a little worse for wear, too. Dear me, will I never learn to set the beverage aside
before
I read the funny?
*deep breath*
To
beanbeans
,
botias
(who should maybe consider starting a line of evil blue alien overlord greeting cards),
cindergal
,
clawofcat
(who's taking a fic request--squee!),
diachrony
,
lynnenne
,
gillo
,
goldenusagi
,
jamalov29
,
ladyaelfwynn
,
louise39
,
missmurchison
,
missus_grace
,
petzipellepingo
,
pfeifferpack
,
shapinglight
,
stoney321
,
st_salieri
and
thedeadlyhook
: Thank you
so
much for your birthday shout-outs, greetings, verse, doll pics (I'm looking at you, Gill!) and good wishes. Dio and Kathleen even haiku'd, and
jamalov29
wrote a beautiful poetic offering that made me all misty-eyed! All of you made it such a special day. I'd also like to add huge thank-you smooshes to
herself_nyc
for not only luring me to LJ in the first place with her shiny fic but now for also keeping me here with the absolutely perfect gift of another year and beaucoup de userpics. Mwah! :D
Along with the many lovely personal greetings, I was also thrilled to receive several offerings that are shareable. So, another round of awestruck thanks to:
c_woodhaven
for writing
Ultimate Sin,
an NC-17 Spuffy fic so delicious that it comes with its own
recipe!
philips
for
birthday picspam
with shocking revelations. *sobs* Dr. Phil? Really? And merci for the birthday phone call! *snicker* I'm even going to thank you for the
singing
. I promise to give the evil UPS troll the stink-eye for you tomorrow. Or kiss him. Frankly, it could go either way.
powerofthebook
for
three enviably funny Spaiku
about the infamous doll!torture photo shoots. They were the source of all kinds of immoderate cackling in our household last night.
rebcake
for the
hilarious Spike limericks
. I keep sneaking back to giggle at them. If you ask me, folks just don't write enough of those things anymore.
riccadonna
for her
fabulous cartoon
wherein Spike is rightly afraid of me. I don't know when I've been so flattered!
selinde2
for
Interlude with Sunscreen
, her first-ever fic. Y'know, I think a
lot
more people would wear proper sun protection if sexy vampires talked them through the process. ;)
So, anyway, I had a wonderful day of playing with my family and laughing and reading and crying the happy tears, and I couldn't be more grateful. *hugs flist again and whispers* And apparently, I'm not the only one who's feeling touched by your kindness. . .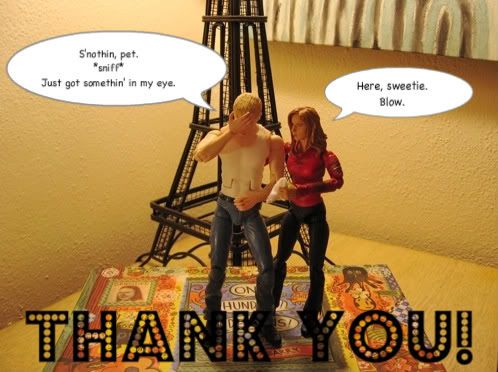 Y'ALL RAWK THE MOSTEST!!! \0/
ETA: Half of my thank-you list dropped off after an edit but has now been re-added. Heartfelt apologies. And
adriana_is
? You know I adore you, dearie, but every time I try to edit your name back in, it posts without it! *hugs* Please be assured that I'm grateful to you, too!
Howdy! *hugs flist* I just wanted to say thanks for being a big part of the best birthday I've had in
Current Location:

over the moon

Current Mood:

loved

Current Music:

"kind & generous"-natalie merchant