fourth glorious day
of
earth_vexer
's birthday week celebration. Without her talent for graphic design and her entertaining posts, my LJ existence would be very drab. Honestly, I've written many a haiku just because I wanted to pair it with a particular E_V icon. Also? When I'm having a dull day, I covetously browse through her tiny works of art the way other women look at expensive shoes online. So much pretty. Sorry I missed the actual day, E_V, and I hope you had a very good one.
I left the laptop open while looking for birthday post inspiration, and apparently, doll!Spike did a little searching through E_V's icon archives himself. I fear that the experience has left him, if possible, even more full of himself than he was before. (He's asked me to pass along a suggestion that Spike icons be tagged as "Spikons." *snort* Whatever, vampire!) We were going to try and re-create an icon pose together and do a little photographic homage, but once doll!Spike was overcome by art and the fumes of his own outsized plastic ego, I couldn't do a damned thing with him. Maybe
you'll
have more luck. ;)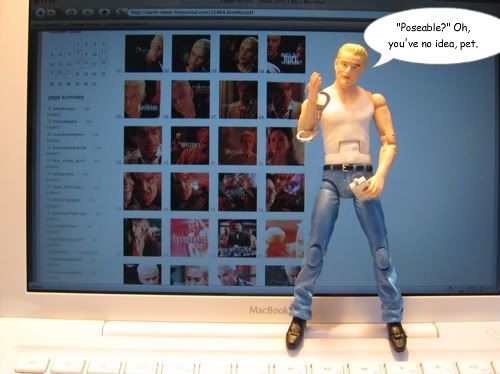 vexed vamp squints, then grins . . .
100 x 100
how does she do it?!
HAPPY BIRTHDAY, EARTH VEXER! May the upcoming year bring you good things and lots of time to make art of any size you choose. :D
Today is the
Current Mood:

nerdy