(There were a number of Lord of the Rings dolls partying down as well, but they fled back to the safety of the cardboard castle when they saw the camera; they've been burned before.)
Buffy and Faith preside over the party from their perch on la Tour Eiffel . . .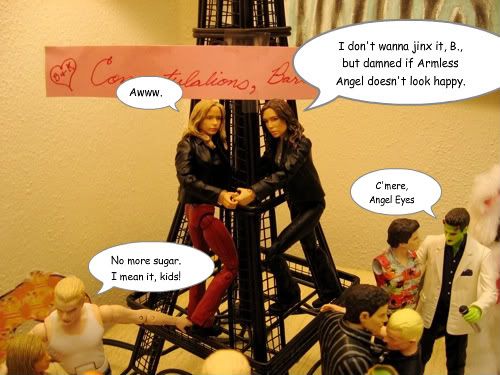 There was a little confusion in the Summers-Pratt family as to whether Auntie Willow was supposed to bring
cookies
to the reception or cookie
monsters
. (There was also a little confusion in an eavesdropping SchoolHard!Spike's mind as to exactly what he was overhearing!)
I'm sorry to say that things got a little ugly as the party wore on and the increasingly drunken guests began to eye the cookies in a manner that was less friendly and more hungry. Let's just say that Willow made it home with fewer tamed cookie monsters than she brought and leave it at that. :(
Illyria continues her cultural studies via lively banter with Anya (or "small leporine personage," as she insists on addressing her), while AtS S5 Spike and Angel, blotto on otter blood, completely forget they're supposed to pretend they're not having a thing.
CONGRATULATIONS, BARB & KATHY!! KATHY & BARB!! Best wishes and many happy returns from a family of fans.
Cheers,
Sarah, Bob, and Miss Z.
Casa del Ubu
October 27, 2008
Well, Barb and Kathy probably don't know it, but their party on Saturday was not the only celebration held in honor of their recent union. Imagine my family's surprise when we heard tiny, rowdy cries of "Mountain Dew for EVERYONE!" and "Here's to the birds!" emanating from Doll Party Central and happened upon this festive little tableau:
Current Location:

chapel of love

Current Mood:

celebratory

Current Music:

"wouldn't it be nice"-beach boys